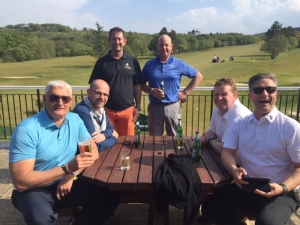 The UK Pavilion at FENSTERBAU FRONTALE 2018, hosted by the Glass and Glazing Federation (GGF) will have five new co-exhibitors joining the six original companies at the world's largest international trade fair for the window industry
In 2016, the GGF set up and organised the UK Pavilion within the FENSTERBAU FRONTALE exhibition. For 2018, the GGF has more than doubled the size of the Pavilion with 200m2 reserved to provide a designated area for 12 British companies to co-exhibit and reach a huge international market in excess of 100,000 trade visitors.
FENSTERBAU FRONTALE 2018 takes place in Nuremberg on 21-24 March and reflects the worldwide innovations in windows, doors and facades. Architects, carpenters, window and facade manufacturers, and the specialist trade will update on the latest profile systems, glass in architecture, fixing equipment, hardware, safety equipment, machines, installations and many more products.
The five new co-exhibitors who have signed up to be part of the UK Pavilion include:
Hoppe (UK)
Made for Trade
Reddiplex
Roseview Windows
Window Ware
James Lee, GGF Director of Group Marketing commented on the increased size of the UK Pavilion:
"We are delighted to welcome the five new co-exhibitors on board. We received a lot of interest after the event in 2016 so planned for a greater presence in 2018. Each of the five "new" companies joining us, will add more to the UK Pavilion with a greater range of products and demonstrations on show."    
Richard Bryant, Commercial Director of Window Ware added:
"Window Ware is delighted to bring its unbeatable broad range of top-brand hardware and friendly, first-class service to Fensterbau 2018. As a leading UK distributor with over 30 years' experience of successfully supplying quality hardware, tools and consumables to fuel fabricator production lines and keep Trade Counter shelves stocked, we believe we have lots to offer visitors to the UK Pavilion."
On joining the UK Pavilion, Andrew Matthews, Head of Sales, Hoppe UK commented:
"Being part of the HOPPE Group the best of our product range will be showcased on the Group stand. However Hoppe (UK) as a market leader in door and window hardware is delighted to be part of the UK Pavilion to meet potential clients wanting to develop their business in the UK. As a member of HOPPE Group, HOPPE (UK) benefits from over 60 years' experience in architectural hardware and with our presence in two areas of Fensterbau we aim to show our high quality products to greater effect."
Reddiplex Limited is British company at the forefront of their sector as a manufacturer of bespoke plastic and rubber extrusion since 1969. On joining the UK Pavilion, Charlotte Dovey, Marketing Manager commented:
"The UK Pavilion at Fensterbau Frontale is a perfect platform to show Reddiplex's extensive capabilities. With our multi-lingual sales team we work on international bespoke extrusion projects across multiple market sectors including glass facades, windows, doors, conservatories and glass partitions. We are very much looking forward to Fensterbau."    
Roseview Windows is the UK's leading sash window manufacturer. Established in 1977, they were the first UK company to manufacture uPVC sash windows for the double-glazing trade in 1985. Willie Kerr, Managing Director outline his plans as part of the UK Pavilion.
"The UK Pavilion and Fensterbau gives us a great opportunity showcase our high quality products and impart our expert knowledge and unparalleled experience of vertical sliders to an international audience. We are delighted to be part of the show."
Made for Trade is one of the UK's leading fabrication companies applying their precision engineering and manufacturing philosophy to Bi-folding doors, Conservatory roofs and also to their in-house designed system the Korniche aluminium Roof Lantern.
Chris Wann, Business Manager commented:
 "We are really looking forward to exhibiting on the UK Pavilion at Fensterbau where our team will be demonstrating the many innovations provided by the Korniche product. Visitors to the Pavilion will see the fastest install on the market as the Korniche is literally built in minutes on the stand." 
On the UK Pavilion, participating companies will hold product promotions, demonstrations, videos and presentations as well as taking advantage of multiple networking opportunities. The GGF will also soon be revealing the plans for a special party held on the Pavilion during the show in the form of a British Reception.
James Lee concluded:
"We now have 11 co-exhibitors signed up for the UK Pavilion at Fensterbau 2018 and the plans are gathering real momentum. With more companies, products, demonstrations and presentations it promises to be an amazing show for all our co-exhibitors and those visiting the UK Pavilion."
If you are interested in co-exhibiting or visiting the UK Pavilion at Fensterbau Frontale in 2018, then please contact the GGF at marketing@ggf.org.uk
If you have a comment to make or any information relating to this article please contact the GGF