James MacPherson, GGF Health, Safety and Environment Manager provides an analysis of the Health and Safety Executive's published fatality rates for 2019/20.
---
The Health and Safety Executive (HSE) published their fatal injury rates for 2019/20 and it shows we still have work to do. The GGF has always collected data from the membership, however, this is regularly had a low engagement and we thank the members who did send data in. Whilst the GGF data is from 2018 it still gives us some idea and conversation points.
The HSE fatality data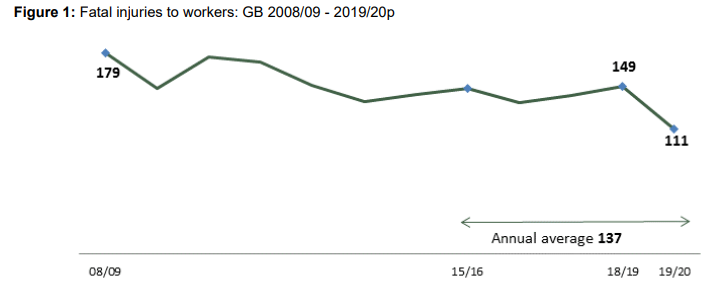 Initially, when we look at this chart we may jump to celebrate, and to some extent we should, UK workplace operations has resulted in less fatalities than the last few years, but still, we have lost 111 lives, 111 brothers, sisters, sons, daughters, mothers and fathers. So with that in mind, it is important to think critically when looking at data. To quote Mark Twain the famous American author.
"There are three kinds of lies: lies, damned lies, and statistics."
If we look at the HSE data and critically ask ourselves where this reduction in fatalities has come from its easy to reason that it's very likely been impacted by the lockdown from COVID-19.
If the reduction continues then we know it is from improvements however the statistics have been broadly flat for a few years so I would be inclined to be cautious before celebrating.
The HSE has stated that the early data did show a reduction consistent with the end of the year data "the number of worker deaths for the first ten months of the year was lower than comparable periods in recent years (99 in 2019/20 compared with 123 in 2018/19 and an annual average of 117 in the previous five years)".
The HSE also commented on the caution we must take with the data "There is a degree of chance and randomness to the annual count resulting in an element of natural variation from one year's count to the next."
But we must not rest on our laurels.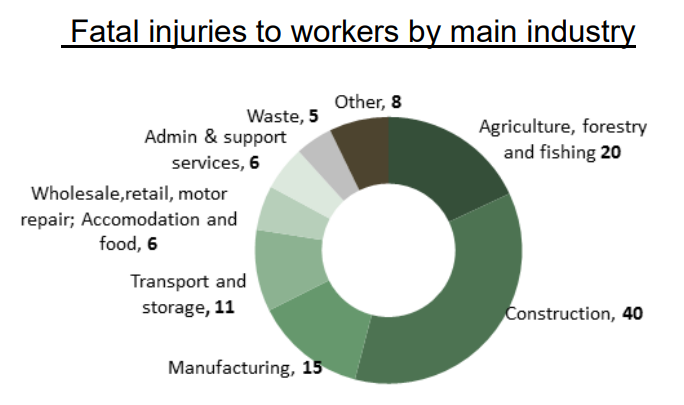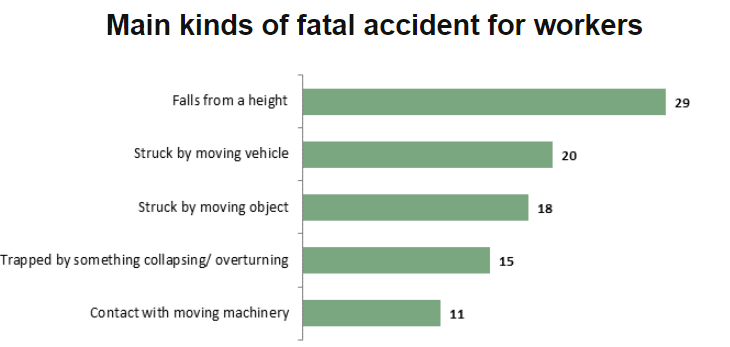 Yet again working at height is the main cause of fatal injuries and construction also consistently the main contributor to the fatality rates, both of these areas are a huge part of what the Glass and Glazing industry does. Also, we see manufacturing contributing quite significantly and "struck with moving vehicles" the second biggest cause. All of these prominent in the Glass and Glazing industry.
But what about GGF data?
The GGF Data Set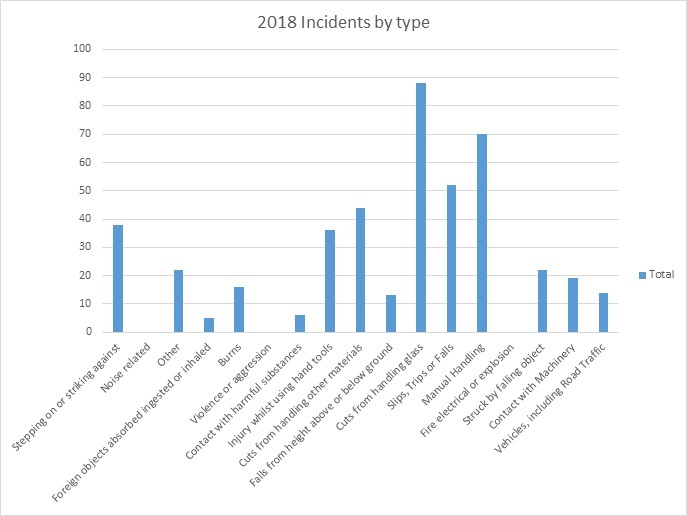 It's clear from the data that the Glass and Glazing industry has the most accidents in the following top three areas;
Cuts from handling glass
Manual handling
Slips trips and falls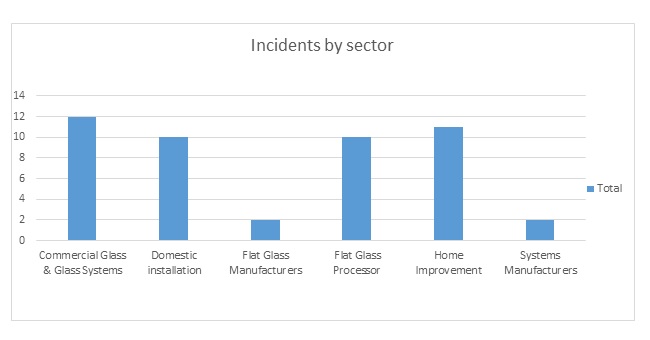 Commercial glass, Home improvement, and domestic installers show as the highest contributors which would show a loose match with the HSE data of sectors.
When we compare the HSE Fatality data and GGF data it is easy to jump to a conclusion that we are better than most because our numbers are relatively low and not in the same areas. For example, working at height is one of the main contributors for workplace fatalities and the GGF data shows working at height is relatively low, with 13 reported incidents. So it is easy for us to assume everything is going well in the Glass and Glazing industry, but this data is only a reflection of just over 10% of the membership. Remember
"There are three kinds of lies: lies, damned lies, and statistics."
We can easily fall foul of our data, it can easily draw us into a false sense of security and it can easily turn us off when, yet again it's James showing us charts of doom and gloom. I remember watching a keynote back in February when things were a bit normal, I was in the Cotswold's at a conference. One of the speakers was talking about our reliance on the data and how, when we consider "drift theory" a good analogy to demonstrate the risks of RAG (red, amber, green) charts is "we do a lot of watermelon reporting"
Think about watermelon and our RAG charts, all green on the outside but blood red on the inside. E.g. the indicators are there telling us we are drifting into failure but we are overpowering those indicators with our good news reporting. An old colleague of mine said that when he worked in the fire service they used to say, all green-unseen.
So, am I saying we should never celebrate our wins and always be doom and gloom, after all, that's what Health and Safety is all about right? No, the thing is we don't pay that much attention to things when they go right do we? Professor Todd Conklin often says, look at the times things go right there will be an error there too. Professor Eric Hollnagel says
"Can you learn about what a good marriage looks like while only looking at divorces?"
We need to start widening our eyes to learn lessons from our workplaces we need to start talking to the experts, who are the experts? They are your workers, the people facing the risks every day. Ask them
What's stopping you from working well?
What's not working?
What do you do to stay safe?
What do you think the risk is here?
And we need to ask those questions without judgment, we need to be curious without judgment. We also need to be aware of our biases. A Bias like our experience, the likelihood is low for a fatality at work because well, I have been working here for years, and nothing has happened.
To a certain point, you are most probably right. But when not if, but when it does fail, how bad will it fail? Do you have the capacity to fail safely? At least 111 people this year didn't? We need to shift our focus to the significant risks and put our resources into building the capacity to fail-safe. We need to stop focusing on the likelihood because the likelihood of a slip is high but the severity of that risk is likely low (depending on location etc. etc.).
We need to focus on the fatal incidents and build our capacity. As I write this, my phone pings, a notification on LinkedIn, its late on Friday so I have a look, a lady called Laura commented on a post talking about our experience bias and how a trainer said to her "How many 1 in 100 chance things have happened these few years?" It's so true. COVID-19, how many said, it's not likely to come to the UK, I did, as I am sure most of us did. What would have happened if we played devil's advocate with ourselves and said, if, just if it did come to the UK, what would happen do we think? Could we survive? Are we resilient enough? Do we have the capacity to fail, but fail safely?
I will finish off with something I have mentioned a few times over the last couple of years in training etc. It's something I think about when I talk about capacity, and business continuity planning, and contingencies.
Spoiler alert if you haven't watched World War Z I am about to talk about something that happens in the film. So, World War Z, a zombie film with Brad Pitt, what's that got to do with Health and Safety? In the film, the zombie virus has started to spread around the world. We see conversations about how countries disregarded the indicators, because, well come on, zombies? Really? Similarly to how we might have discussed COVID. "Come on we have seen this before with SARs it never really impacts us in the UK."
So the virus gets the playground it needs, as it prays on the naysayers and the optimists equally, and then ultimately the world. This is the dilemma of Health and Safety, well how far do we go? Control every risk there is? Jump to every new development, every new virus? Well, this is why I talk about the film, in the film, there is one country that is surviving the virus, one country that is winning against the virus.
So Brad Pitt flies over and finds out the country has a policy, "the 10th man" If the room of ten people all have the same information and all come to the same conclusion it is the duty of the 10th man to disagree. The 10th man has to start thinking as if the other 9 were wrong and as a result, they are winning in the battle against the virus. What if we had a 10th person in our board rooms, what if we had a comfortable conflict in our boardrooms? Next time you look at your data and all agree that everything is all good, or do a risk assessment for significant risk, maybe ask the 10th person to assume everyone else is wrong and see what we learn?