'…the biggest shake-up of employment law in a generation.'
The government is currently rolling out an extensive programme of employment law reforms known as the Good Work Plan. These are a response to the challenges caused by the huge growth in the use of casual working and self-employed arrangements.
Significantly, they do not seek to restrict flexibility, as this is still recognised as being key for businesses. However, they aim to make it easier for individuals to understand and enforce their rights and provide much greater clarity on the terms of engagement.

Citation, carried out research which found many businesses are incorrectly calculating holiday pay and did not feel prepared for the changes, despite the fast-approaching date of April 6 2020.
So what do GGF members and businesses need to know?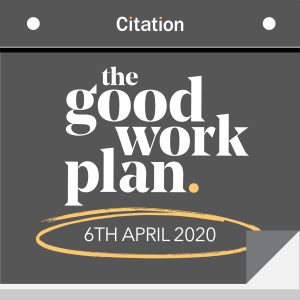 Though The Good Work Plan is a complex programme of reforms, the three key changes will concern:
A written statement of particulars of employment for all workers from day one;
An increase in the holiday pay calculation period;
And increased protection for agency workers.
In terms of holiday pay, the method for calculating entitlements to those working variable hours will change significantly; it will go from taking an average of the previous 12 weeks worked to calculating the average over the previous 52 weeks worked.
Another key change will be allowing some workers the right to request a stable contract. This will not be mandatory, as the government recognises that some people are happy to work varied hours each week and so will be able to continue doing so.
However, those who would like more certainty about their hours will be able to request a fixed working pattern from their employer. Although we do not yet have an implementation date for this, this change was a major feature in the new Employment Bill announced in the Queen's Speech.
The reforms also aim to improve the enforcement of employment rights, by introducing state enforcement of these rights for 'vulnerable workers'.
Defining employment status
The issue at the heart of these reforms is how to start working out the employment status of those working for you, as employment rights are governed by this.
Though there is no sign of this on the horizon, the government has conceded that this is an area of unacceptable uncertainty and has promised legislation to clarify this.
As an example, individuals might start working an employer on a casual basis but through regular use, they may have become integrated with the business to such an extent that they would be classed as employees or workers, with the additional rights this entails.
The Good Work Plan itself is complicated and confusing. Managers and employers are free to download the white paper produced by Citation's HR & Employment Law experts.
GGF member benefit: HR & Employment Law support from Citation
If you've got any questions, call Citation's friendly team today on 0345 844 1111 or get in touch here – just mention you're from GGF when enquiring.
With complex legislation change on the horizon, there's never been a better time to consider getting the complete backing of HR experts.
Citation work in partnership with the GGF and as such can offer GGF members preferential rates on Citation's HR services including:
Dedicated local consultant
24-hour expert advice line
Full legal documentation, including staff handbooks and contracts of employment
Access to Atlas, your one-stop-shop HR management tool
To find out more or book a free consultation, click here or call 0345 844 1111 to chat about your requirements.
Citation works in partnership with the GGF to bring you the best advice to help your business