One of the special presentations at Members' Week will be by Sanmukh Bawa of G-Smatt Europe, who will be presenting on the exciting and developing sector of Media Glass Technology.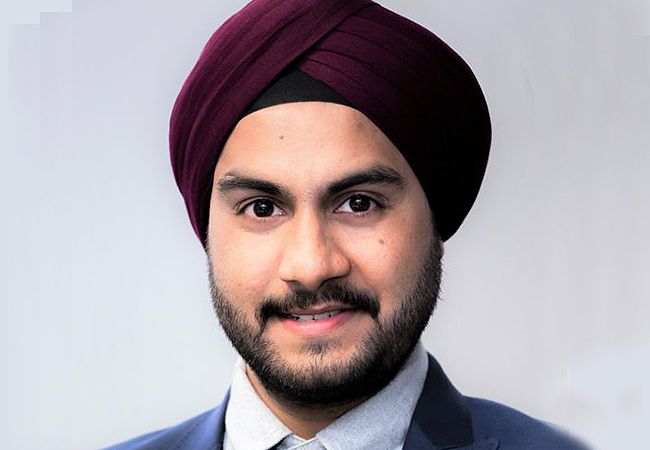 Sanmukh has been Technical Director at G-Smatt Europe since 2017 with a remit to place G-Smatt media glass on the market primarily in Europe, the Middle East and USA. Prior to joining G-Smatt Europe, Sanmukh worked with Eckersley O'Callaghan as a structural glass and façade engineer, where he had been mainly responsible for the facade design and structural design of complex glass structures including the Apple HQ in Cupertino and Apple flagship retails stores worldwide.
He has increasingly been involved as a Technical Adviser for projects with complex glass processing and extensive testing requirements. Having a glass processing family run business makes him more astute in dealing with material properties of glass fabrication and applications.
In this interview, Sanmukh provides a background to his career in the glass industry and indicates what GGF members can expect from his presentation, which takes place on Thursday 1st October at 2pm via video link.
How did you get into Media Glass Technology?
My experience in the glass industry has been broadly with structural design jumbo glass units that are highly technical and complex to fabricate. When I was approached by G-Smatt, it felt like a natural progression to join the team and take this futuristic technology forward. It is the first of its type that combines architectural and IT technology into one and integrates IOTs (Internet of Things – devices, platforms etc) within the built environment.
What has been your greatest success in using the technology?
Since it is a relatively new technology, we have gone through an educational drive by conducting CPD (Continued Professional Development) seminars and workshops with leading architects, façade engineers and developers to outline the potential benefits and applications of our technology. This has had an excellent response from the industry and we have already been specified for a number of projects currently in construction in Europe, with over 130 existing installations worldwide within the last 4-5 years. We feel that the start of curve has been very successful and are looking forward to transforming more cityscapes.
What can GGF members expect from your presentation/webinar?
An understanding on principle of media façade and its applications, knowledge into production of these units and a case study showing transforming of before and after installation of G-Smatt glass on a conventional structure.
What are your predictions for the future of the Media Glass Technology?
Large façades will facilitate far more creativity and we should be prepared to expect the unexpected. Even at this early stage in the uptake of this technology, architects, designers, app-developers and organisations are coming together and developing ideas that, as they come to fruition, will truly transform the digital and glass cityscape.
Media Glass Technology – a presentation by Sanmukh Bawa takes place on on Thursday 1st October at 2pm via video link. You can reserve your place at this webinar by booking here.