What is hazardous waste?
Waste is generally considered hazardous if it (or the material or substances it contains) are harmful to humans or the environment. Examples of hazardous waste include:
asbestos
chemicals, such as brake fluid or print toner
batteries
solvents
pesticides
oils (except edible ones), such as car oil
The most common example of hazardous waste in the Glass and Glazing industry would be IG (Insulated Glass) Sealants. Commonly they come in two Parts, Part A and Part B, both of which would be hazardous waste and when mixed continue to be hazardous waste.  
How can you find this information?
Every chemical that we buy will have an MSDS (Material Safety Data Sheet.) These can come with the product but the most common and easiest way to get them is to download them from the manufacturer's website.
Section 13 of the MSDS is the "Disposal considerations" this will detail how the products can be disposed of. A couple of things here may help you work out what to do;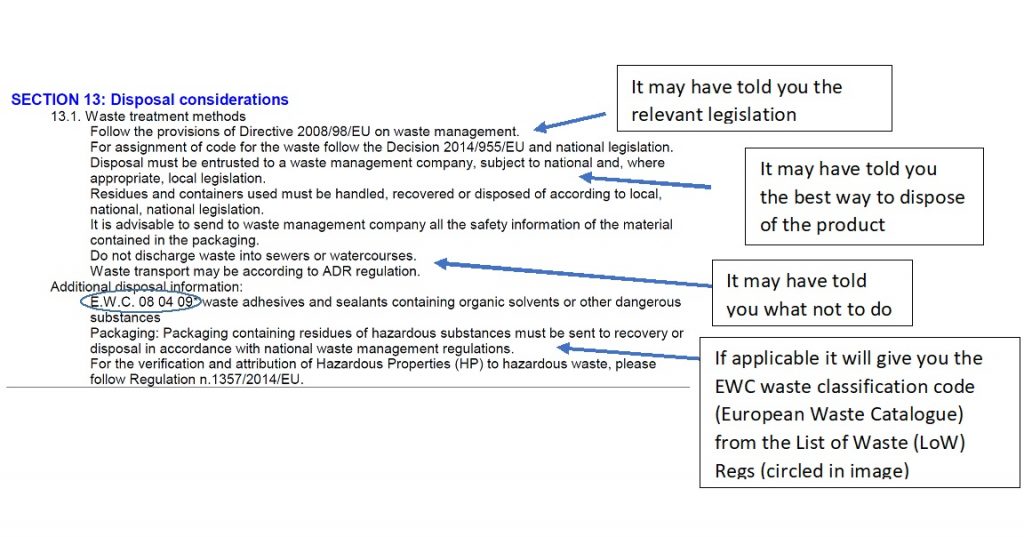 Another easy way to find out if a product is hazardous is to look for the pictograms. You can find these in the hazard identification section (section 2). These show you that the product can present harm to some one or something. Be careful though, because if the product doesn't have these it does not mean that it is not hazardous;

Another way to be sure would be to take the EWC number out of section 13 of your MSDS and check that against the List of Waste regs and look to see if it has an asterisk against it, this means that it is hazardous.
Conclusion
GGF Members must take steps to stop any chemicals, including solvent and sealants, entering the waterways, soil, substrate or natural waters through accidental/operational spills etc.
Members must dispose of the waste responsibly under the Hazardous Waste Regulations
Members must not dispose of the sealants or any chemical down the drain.
Members should engage with a responsible waste management company.
The above points also apply to IG sealants which are common in the industry and must be adhered to. This is the sealant used in the making of insulated glass, and it comes in two parts, both of which are hazardous.