The GGF has welcomed the very positive news from today's Chancellor's Summer Statement which will help companies through in the rebuilding process and create and save jobs.
In his opening remarks the Chancellor pledged that the Government will do all it can to give people the opportunity for good and secure work and the goal of this plan is to protect, support and create jobs.
Chancellor Sunak stated that £49bn has been provided so far for public services during the crisis and that we are now entering the second phase of the Government economic response to the pandemic which as seen the economy contract by 25%.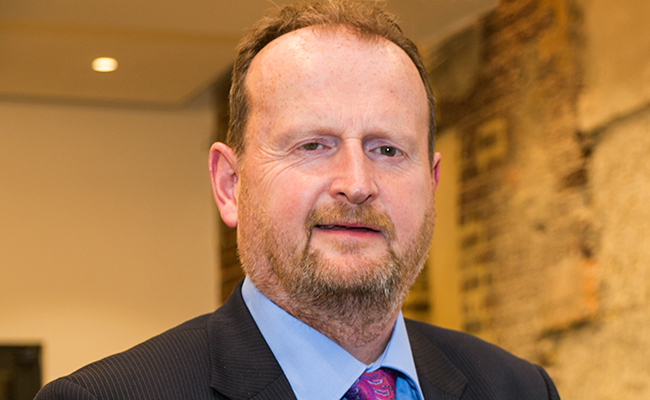 On hearing the content of Chancellor's Summer Statement, John Agnew, GGF Managing Director commented:
"These are very positive announcements and though the full detail of how the various incentive schemes will be implemented has yet to be released, we welcome this level of commitment from Government that should help secure the futures of companies and their employees. The GGF will continue to engage with Government to gain more detail and raise the concerns of our Members and the wider industry."
The announcement included:
Home Improvement – Green Home Grant Scheme
A £2bn "Green Homes Grant Scheme" will be introduced in September to help make homes more energy efficient. Homeowners and landlords will be able to apply for vouchers up to £5k to install energy efficient measures which should also create local jobs.
The grants will cover at least two thirds of the cost, up to £5,000 per household.
There will also be an additional £1bn of funding to improve the energy efficiency of public sector buildings and £50m to improve energy efficiency in social housing.
Read more GGF comment and reaction on the scheme here
Jobs
Plans include a new £2bn "Kickstart" scheme to create thousands of job placements for young people. Government will pay young people's wages for six months, plus an amount to cover overheads. That means, for a 24-year-old, the grant will be around £6,500.
Apprenticeships incentive offering companies £2000 to take on apprentices and £1500 to companies who take on apprentices over the age of 25
Trainee incentives – offering companies £1,000 to take on trainees
Job Retention Scheme bonus of £1000 for employers who bring back furloughed staff and are still employed by 31 January 2021.
A new Talent Retention Scheme for Construction, please see link below to the Construction Leadership Council with details, click here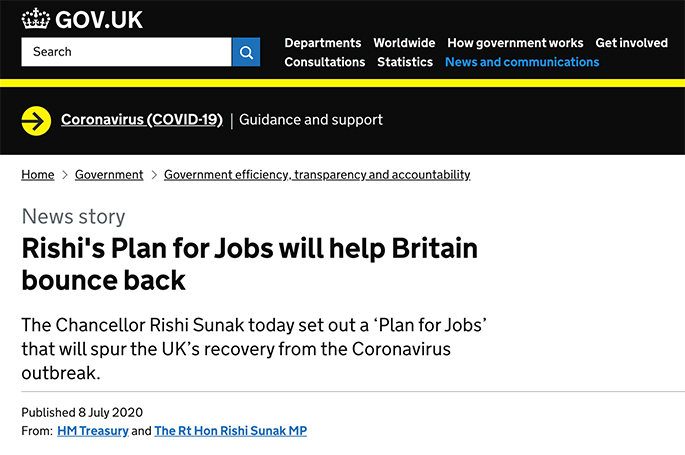 Read the Government's full press release here
Housing
The chancellor announces a temporary change to stamp duty in England and Northern Ireland – immediately increasing the threshold to £500,000 from now until 31st March 2021
Short-Term Home Building Fund extension – The government will support small- and medium-sized housebuilders that are unable to access private finance by boosting the Short-Term Home Building Fund, providing an additional £450 million in development finance to smaller firms. This is expected to support around 7,200 new homes in England, boosting housing supply and adding resilience to the market. A proportion of this fund will be reserved for firms using innovative approaches to housebuilding such as 'Modern Methods of Construction'
Planning reform – The government will introduce new legislation in summer 2020 to make it easier to build better homes in the places people want to live. New regulations will make it easier to convert buildings for different uses, including housing, without the need for planning permission. In July 2020, the government will launch a policy paper setting out its plan for comprehensive reforms of England's planning system to better support the economy and release more land for housing in areas that need it most.
School estate funding – The government will provide additional funding of £560 million for schools in England to improve the condition of their buildings and estates in 2020-21. This is on top of the £1.4 billion already invested in school maintenance this year.
School rebuilding programme – The government has announced over £1 billion to fund the first 50 projects of a new, ten-year school rebuilding programme in England. These projects will be confirmed in the autumn, and further detail on future waves will be confirmed at the Comprehensive Spending Review. Construction on the first sites will begin in September 2021.
The GGF will be reviewing the documents issued by the Government in relation to today's announcement and will then contact the relevant Government departments requesting more details on the implementation and access of the announced schemes. All new information received and responses from Government will be cascaded to Members in the first instance.