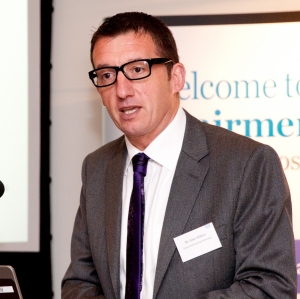 The founder Members of the Group are;
British Glass (BG)
Flat Glass Manufacturers Association (FGMA)
Glass and Glazing Federation (GGF)
The Group was formed to combine knowledge and expertise to create a collective and united voice on the key issues affecting the industry and the companies within the supply chain.
Giles Willson, GGF Deputy Chief Executive and Director of Technical Affairs commented, "It's extremely positive that we now have this joint Group set up to support key campaigns to try and influence and possibly change policy to help companies in the industry supply chain."
Dave Dalton, Chief Executive of British Glass added, "I am pleased to see the industry coming together to make our voice stronger and unified in the political arena."
Dave Cox, President of the European Window Film Association said, "The industry can only benefit from this new group and I am sure that more support from other trade bodies will be forthcoming, to enhance the Group and its campaigns even further."
The Glazing Supply Chain Group's main objective are;
To represent the supply chain in the glazing industry and act as the collective "voice of the industry" to Government (local, national and European) and related organisations post and pre-election 2015.
To promote the benefits of energy efficient glass and glazing and highlight the environmental advantages to key Government departments.
To increase awareness of the Group in the construction industry and in the political arenas.
To increase the size of the Group and involve (unite) more trade bodies who share the Group's core messages and who will endorse the Group's activities for the good/benefit of the industry.
To maintain a non-commercial, independent, clear and progressive messages on behalf of the Glazing Supply Chain.
The Group's first completed project is the National Energy Foundation (NEF) independent research report on the energy efficiency of windows/glazing and their contribution to the overall energy saving and reduction in carbon emissions from buildings in the UK.
The study was commissioned by the Group to identify:
How much energy can be saved if more existing domestic and non-domestic buildings in the UK install the most energy efficient commercially available glazing and associated technologies.
How can the uptake of energy efficient glazing and energy efficient glazing technologies be encouraged and incentivised. What barriers exist? What actions and messages are there for the policy makers and the glazing supply chain"
The completed report, entitled "Glazing in Buildings – reducing energy use" is available for download on the Group's new website; https://www.glazingsupplychaingroup.org.uk/
For more information on the Glazing Supply Chain Group or if you would like to attend a future meeting, please contact enquiries@glazingsupplychaingroup.org.uk