The GGF is a member of Construction Products Association (CPA) and recently attended the General Council meeting at the CPA Head Offices in London.
At the meeting, Professor Noble Francis, CPA Economics Director previewed the latest economic forecast figures for the construction industry 2019-2021.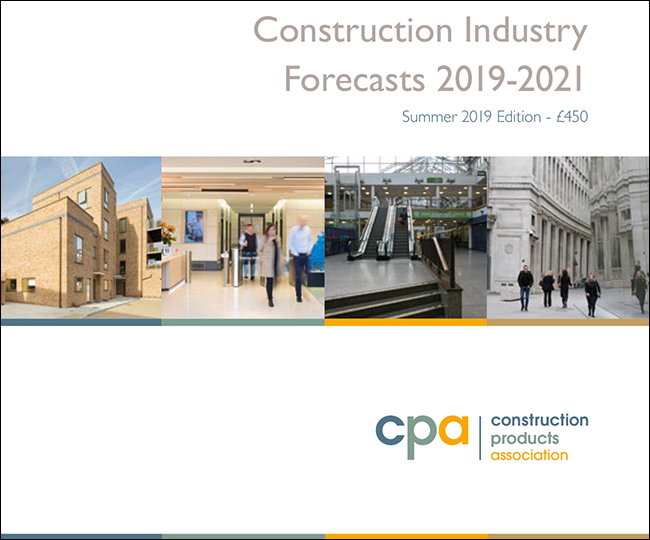 Last week, CPA released its publication "Construction Industry Forecasts 2019-2021" for its Members to consider. As a GGF Member, you have free access to this information and economic analysis of the construction market.
Please see the summary statement below from Professor Noble Francis.
"The CPA forecasts that total construction output will fall by 0.3% during 2019 before a rise of 1.0% in 2020 and output is projected to rise by 1.4% during 2021. The forecast for 2019 is broadly similar to the spring forecast of a 0.4% decline but the forecast for the two subsequent years is a revision downward from the previous forecast of growth rates of 1.4% in 2020 and 1.7% in 2021, primarily due to increased concerns regarding government's ability to deliver on major infrastructure projects.
Major infrastructure delivery on programmes such as HS2 will be vital to the construction industry's fortunes in the next few years and activity on major infrastructure projects is already helping to offset falls in many sectors. Without major infrastructure project delivery, total construction output would fall by 1.7% in 2019 and experience no growth throughout the rest of the forecast period.
Forecasts are conditioned on assumptions regarding the UK's exit from the EU. The CPA's forecasts are predicated on either the Withdrawal Agreement, with the exclusion of the controversial backstop, passing through UK Parliament or a further extension to Article 50 to March 2020. Either of these options would ensure that trading conditions remain the same in the near-term although both have considerable issues. A discussion of Brexit issues is in the CPA's Brexit Update, which also includes a 'No Deal' scenario."
To view the Construction Industry Forecasts 2019-2021 publication below, you must be logged in as a Member on the GGF site