The GGF Glass Charter Health and Safety Merit Scheme is currently under review and is due to be relaunched in quarter 3 2021. In Quarter 3 of 2020, the GGF Health and Safety committee approved the proposed approach to review the Glass Charter and at the start of 2021 the GGF Health, Safety and Environment Manager proposed the new approach which was unanimously voted for by the Health and Safety Committee.
Why are we reviewing the Glass Charter?
To operate at the highest possible standard our industry need to be agile and evidenced-based
The world of work in changing and our employees and their Health, Safety and Welfare needs to be a business strategy
The way Health, Safety and Welfare is veiwed and conducted is changing and the GGF wants to support that and enable GGF Members to be at the forefront of positive change.
Our Aims
The GGF aims;
to be restorative, not retributive
to partner, coach and support our members not enforce or police them
to lead the industry in safety performance in both construction and manufacturing
to create a fairer and safer industry to attract talent
What will the new Glass Charter look like?
In 2021 we will relaunch a with a renewed focus and a modern Glass Charter, a new name and a new approach will be aimed at supporting and coaching our members to be better.
The Glass Charter will be moving to a voluntary pledge and principle system where the most senior position at a GGF Member company will sign up to the pledge committing to operate to the principles which will be developed from reviewing several key aspects that will keep the new glass chart up to date with the most forefront of safety;
Legislation and HSE guidance- Legislation is key to operating safety but it is goal-based and doesn't normally help us achieve the goal, HSE guidance is also important and will inform our way forward.
Internationally recognized standards such as ISO 45001 and 45003 and ISO 27500
Safety Science- Some of the world-leading thinkers, the HSE science division and universities carry out organizational, psychological and sociological research regularly and publish their work in journals such as the safety science journal and others, we will take this work and apply it to our industry through the glass charter.
Benchmarking- we will benchmark our work against the high-risk industries and the best safety performance in the world looking to companies like- MEARSK, BP, Luton Airport, Lang O'Rourke, Keolis Amey, Chevron, and many more.
We will move to a coaching approach focused on supporting and guiding members with our tools and tactics;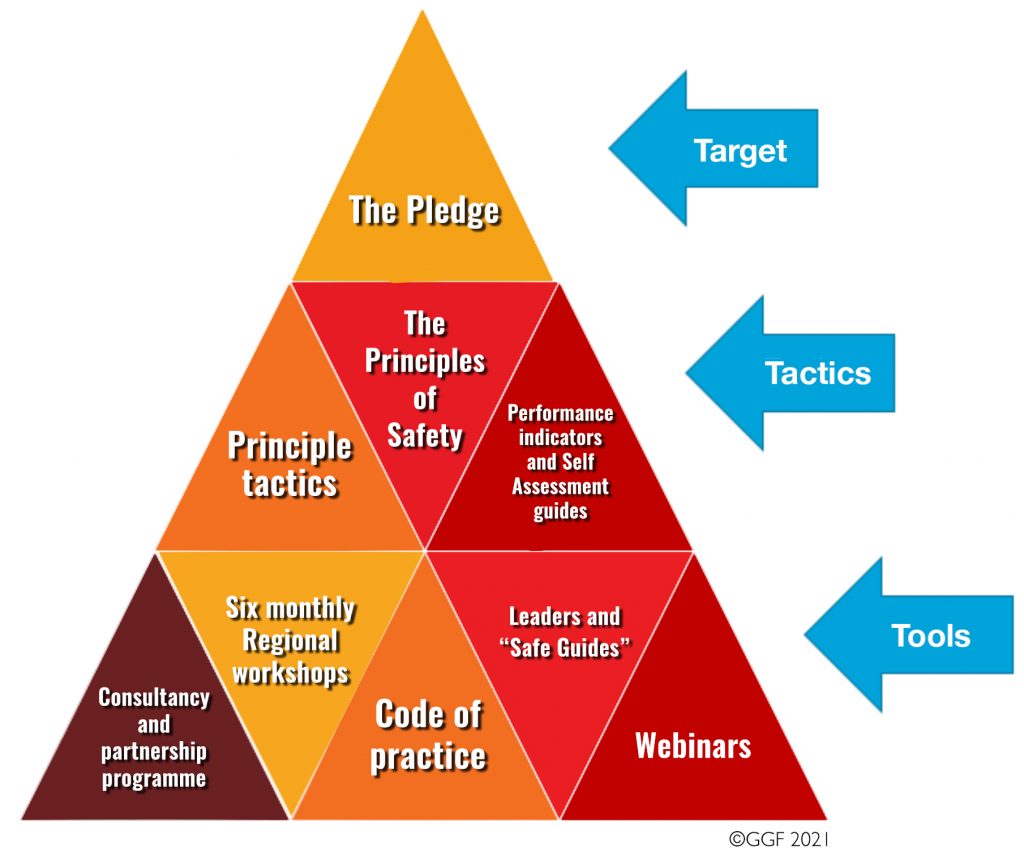 Principles for members to aspire to
Increased Literature, Codes of Practice, Leaders notes, Safe guides and more
Webinars
Regular workshops
GGF Health, Safety and Environment Consultancy and increased partnerships with solutions providers
More details will be released as the GGF develops The Glass Charter further towards our launch in 2021