Reducing the risk of asbestos exposure
The danger associated with exposure to asbestos fibres has been a long term defining health issue in our sector, and that danger remains today. It is essential that contractors take steps to reduce the risk of exposure to operatives, other workers, and the public.
Any person who is, or who may be, involved in working with or near asbestos should read the excellent and definitive information and guidance provided by the Health and Safety Executive (HSE).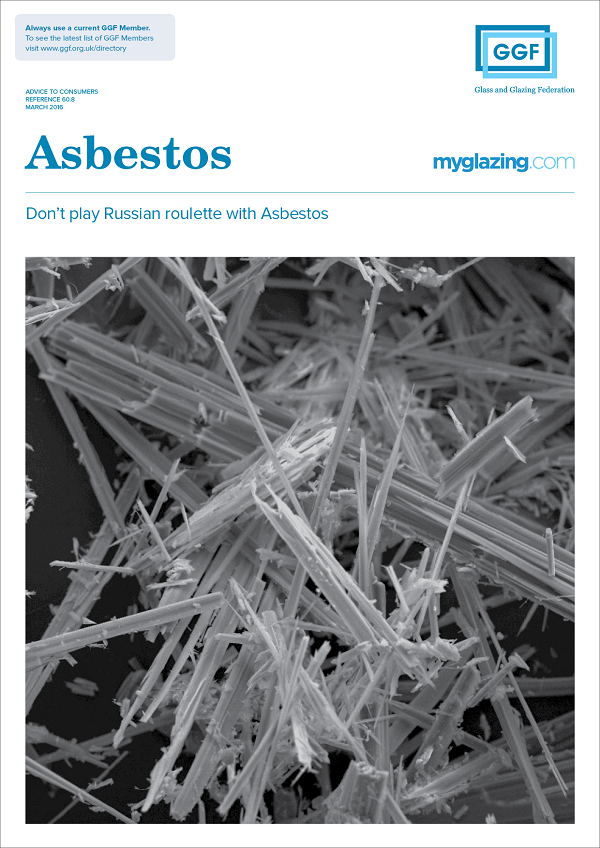 Read the GGF guide 'Asbestos – Don't play Russian roulette with Asbestos'
Asbestos related disease
HSE estimates that up to 20 tradespeople die each week in the UK from exposure to asbestos, making it the single greatest cause of work-related deaths, according to the HSE
Glazing installers, electrical and other building services contractors are potentially at risk from encountering asbestos, notably when carrying out refurbishment or maintenance. Asbestos is still out there in many buildings, built before 2000 and tradespeople are still being exposed to it.
Dealing with asbestos in the built environment
Asbestos can be found in any building built before the year 2000 and causes around 5,000 deaths every year.
Generally, asbestos is only a risk if you disturb or damage it and fibres are released into the air. However, poorly maintained board containing asbestos can expose householders and those working on buildings to asbestos fibres.
Health risks associated with asbestos
Inhalation of asbestos fibres exposes you to health risks which can lead to lung-related diseases such asInhalation of asbestos fibres exposes you to health risks which can lead to lung-related diseases such as:
Asbestosis: Fibrosis/scarring of the lungs, which is irreversible.
Lung cancer: Identical to that caused by smoking. The risk of lung cancer substantially increases if the exposed person is also a smoker.
Mesothelioma: A specific cancer of the inner lining of the chest wall or abdominal cavity.
NB: These diseases have a long latency period (15–30 years). For further information on these diseases please visit the British Lung Foundation website.
More: British Lung Foundation – Asbestos-related conditions
HSE asbestos training resources
"Every employer must make sure that anyone who is liable to disturb asbestos during their normal work, or who supervises those employees, gets the correct level of information, instruction and training so that they can work safely and competently without risk to themselves or others." – Health and Safety Executive
The Health and Safety Executive website has extensive information on asbestos and how to manage the risks associated with it.
More: HSE – Asbestos information, instruction and training
HSE – Beware Asbestos web app


The Health and Safety Executive's free web app is designed to help tradespeople identify where they could come into contact with asbestos in their day-to- day work.
More: HSE Beware Asbestos free web app
HSE – Further guidance on asbestos for tradespeople
Additional information on training requirements as well as further guidance around asbestos can be found on the HSE's website by following the link below: