The GGF GLASS Charter Merit Scheme (Goal: Less Accidents, Safer Sites) was set up by the Glass and Glazing Federation (GGF) with the objective of addressing and improving Health and Safety performance within the UK glazing industry.
Objectives – Goal: Less Accidents, Safer Sites
The merit scheme has two main objectives:
To improve the safety standards within the glazing industry and in turn limit the additional hidden costs incurred by accidents and incidents to business.
To identify, through sharing of incident data, key areas of concern to the industry and bring about change where necessary.
Continuous Improvement
The merit scheme is built with a roadmap to support GGF Members to continuously improve their Health and Safety profile. It is divided into three levels. Bronze, Silver and Gold with levels in Bronze and Silver sub-divided into three grades.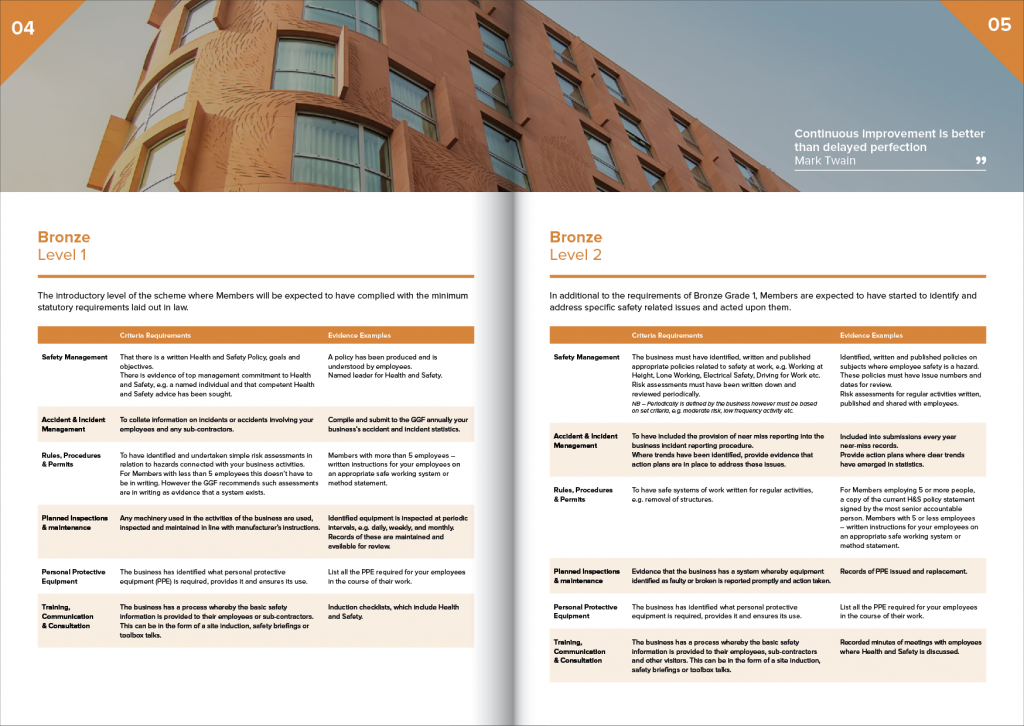 By joining the scheme Members must be able to evidence that they meet minimum criteria requirements for Bronze level 1. However the GGF offers Members the ability to be further assessed to a higher level.
Alongside the scheme the GGF also offers access to resources designed to guide and aid Members in achieving progression within the scheme. Should Members have accreditation to external Health and Safety standards or as part of multi-national organisations have internal and external independent auditing of their systems, they can also be fast-tracked to a higher level.
Measuring Improvement
To measure improvement the scheme contains six criteria areas which capture the key elements of what is regarded as good Health and Safety:
Safety Management – The commitment and supporting structures to make the system work
Accident & Incident Management – Incident reporting, recording and investigating
Rules, Procedures & Permits – Safe systems of work necessary in your business
Planned Inspections & Maintenance – Keeping your employees safe by keeping equipment maintained
Personal Protective Equipment – Identifying the equipment needed and ensuring its availability and use
Training, Communication & Consultation – Keeping employees safe through training and communication