Formation of the Federation
The GGF was founded on 13th January 1977 as a successor to the Flat Glass Association (founded 1st March 1964), incorporating the Insulating Glass, Safety Glazing and Glass Benders Associations. This brought together the representative bodies of the major parts of the industry at that time.
The antecedent of the Flat Glass Association was the Plate Glass Association, the records for which go back to 1880's. There is more evidence in the Minute Books held in the GGF's archives of the glass and glazing companies meeting for their common interests a century earlier in 1780.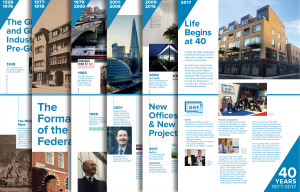 Working for the industry
Since its formation the Glass & Glazing Federation has greatly increased its work on behalf of the industry. This includes contributions to technical and trading standards, marketing and communications including representations to the Government and the media, industrial relations, training, and health and safety. Much work is conducted at a European and International level. The range of interests covered today includes every aspect of the glass and window industries along with solar applications. 
In the last decade the GGF has set up and acquired several companies to strengthen its position for Members' benefit. The growth of the GGF Group led to the need for larger premises in London and in 2009, the GGF group moved to 54 Ayres Street in London.  In 2016 the Federation moved to new, larger offices with better meeting facilities at 40 Rushworth Street in London.
Giving our Members a voice
Today the GGF is the voice of the industry and has unrivalled authority with the long term support and commitment of a high value membership that includes practically all the key players in all sectors of the industry.  On behalf of its members, the GGF lobbies local and national Government, influencing policies and legislation to ensure that its Members are considered in all the wider issues that could affect their businesses. 
The Federation also represents its Members in industrial relations, technical forums, in training and in health and safety at local, national and international levels.  The range of issues covered by the GGF is far and wide and includes almost every aspect of the glass and window industries along with solar applications. Many GGF Members constantly supply their technical knowledge to the GGF's Technical Department which significantly adds to the technical expertise and publications that have become a touchstone for the industry.