Professionally trained installers backed by GGF accredited training will provide consumer confidence and an opportunity to increase your business.
GGF Accredited Installer Training will equip you with the knowledge and skills required to deliver quality outputs. It consists of a mix of classroom training, assessment and on-site evaluation, with all training content linking to existing GGF standards.
The course is open to both GGF Members and Non Members. GGF Members that complete this training course have the opportunity to progress towards the GGF Quality Mark (see below).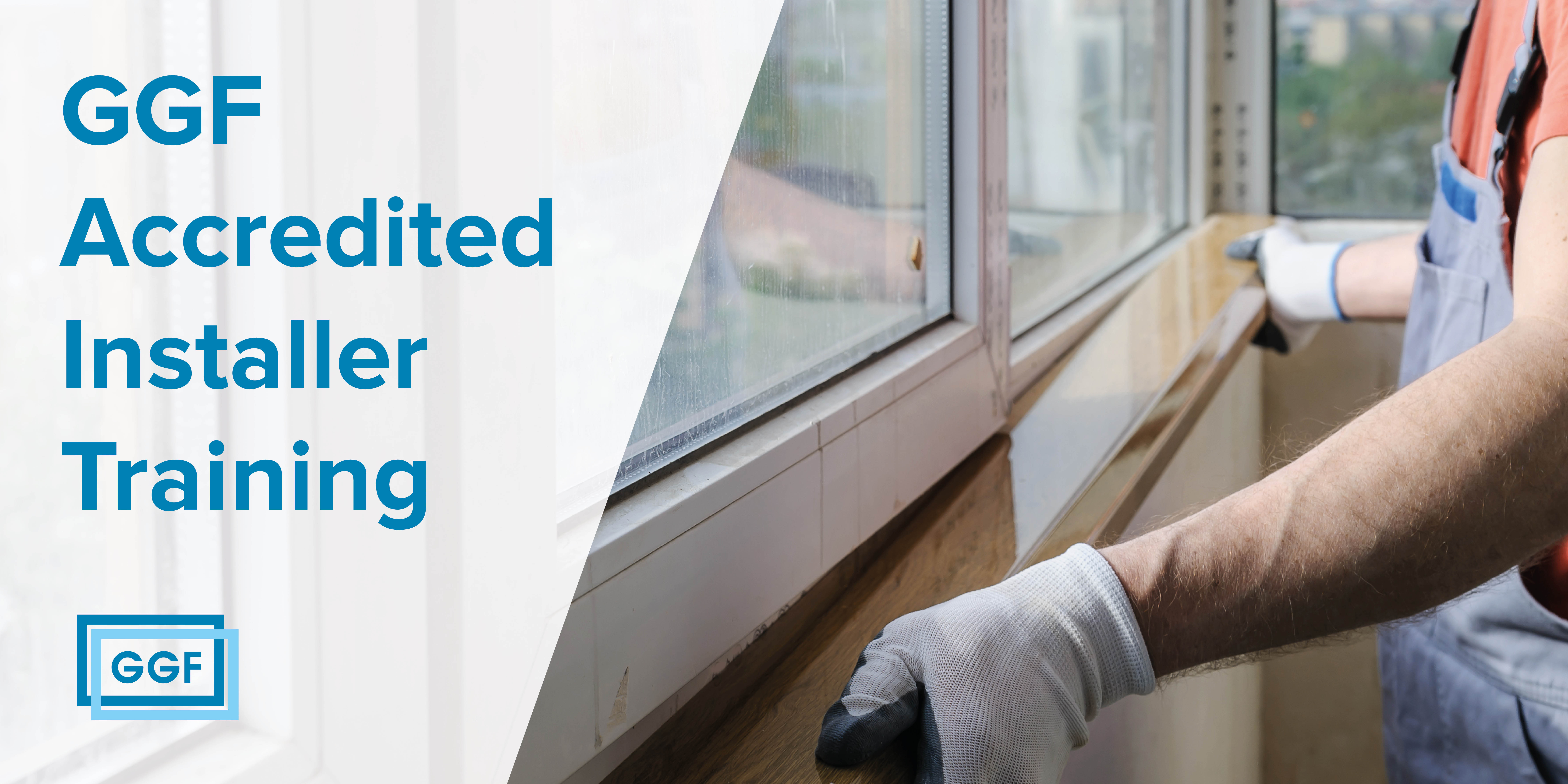 Upcoming dates:
GGF Offices, Southwark, London
January 29-30, 2019
February 19-20, 2019
March 19-20, 2019
April 23-24, 2019
May 21-22, 2019
June 25-26, 2019
> Register via Eventbrite
Who should attend?
This GGF training course is aimed at installers who already have some experience in the sector but wish to hone their skills with a particular focus on quality delivery. This includes:
Trainee window installers
Experienced window installers
Installation Managers
Regional Managers
Sales Managers
Sales Directors
Job roles that have attended recent Installer courses:
Installers
Trainee Installers
Regional Managers
Sales
Surveyors
Directors
Testimonials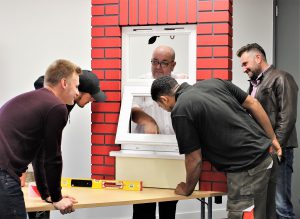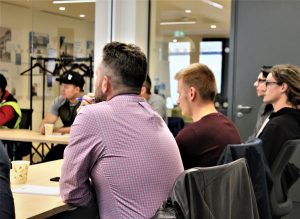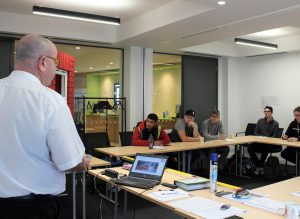 Comments from recent participants in GGF Installer Training on what they took away from the course:
– "I want to live up to my skills and experience – the course has helped me to do this."
– "I have massively advanced my theory of installation which will help a lot on the practical side of what I do."
– "Learning about the importance of quality, has made me more confident."
– "The company has to have a surveyor risk assessment form. I learnt about safe working."
– "I learnt about quality, knowledge and how to be more confident in my profession."
Course schedule
The course is delivered over two days. Alternatively, individual 'top up' modules can be selected in areas where there are identified skills gaps – contact rhearn@ggf.org.uk for more details.
Day 1: Intensive day covering all modules.
Day 2: Further in depth detail plus assessment of knowledge gained on Day 1.
Course outline
The training is delivered by a GGF industry expert and consists of the following modules:
Module 1
Health and safety and risk assessment
Module 2
Building regulations
Module 3
Pre-installation
Loading at depot
Pre-arrival on site checklist of job requirements
Job sheets
Module 4
On site assessment
Securing and protecting
On site meeting with customer
Setting up site
Checking size of windows
Module 5
Structural support requirements
Removal of windows based on good practice guide
Module 6
Preparing the aperture
Module 7
Preparing the frame and installing the window
Module 8
Sealing and trimming
Module 9
Final inspection with customer
Explain operational maintenance
Explain aftersales and complaints handling
Methodology for completing job and collecting payment
Learning outcomes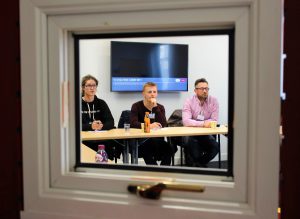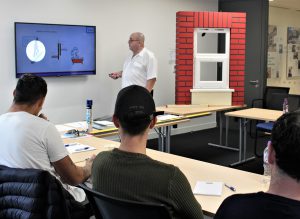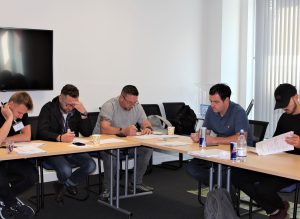 Upon completion of GGF Accredited Installer Training, course attendees should have a good understanding from a quality perspective of:
Health and Safety at Work Act revised in 1974 pertaining to fenestration installation
PPE (Personal Protective Equipment)
RIDDOR (Reporting of Injuries Diseases Dangerous Occurrences Regulations)
COSHH (Control of Substances Hazardous to Health)
Work at heights regulations
Manual handling
Building regulations relating to the following:
– Document A – Structural Integrity
– Document B – Fire Safety
– Document C – Resistance to Moisture
– Document F – Ventilation
– Document J – Combustion Appliances and Fuel Storage
– Document K – Protection against Impact
– Document L – Conservation of Fuel and Power
– Document M – Means of Access
– Document Q – Security
– Approved document 7 – Quality of Materials and Workmanship
PUWER (Provision and Use of Work Equipment Regulations)
Control of asbestos regulations
Installation best practice
Preparation to start work
Frame removal
Frame preparation
Aperture preparation
Frame positions and aperture preparation
Frame installation
Fixings
Frame preparation for glazing
Glazing
Finishings
Hand over
Maintenance
Understanding the building regulations
Removal of bay windows
Bow bay replacements
GGF Quality Mark
The GGF Quality Mark is an official GGF accreditation available exclusively to GGF Members that have successfully completed GGF Accredited Installer or Surveyor Training.
GGF Quality Mark for installers
Successful completion of this training course is one step towards GGF accreditation in the form of the GGF Quality Mark for the candidate.
To achieve the GGF Quality Mark, the candidate must:
Attainment of a minimum of 75% pass the assessment of knowledge learnt in the training
Post training on-site assessment
Post on-site inspection submission of a portfolio of work for additional two jobs
GGF Quality Mark for organisations
Where a GGF Member organisation commits to putting all its installers through the GGF Accredited Installer Training programme, they can attain 'GGF Quality Installer Employer' status subject to conditions (details on request).
Pricing
GGF Member price per delegate: £250 + VAT & booking fee
Non Member price per delegate: £550 + VAT & booking fee
Additional costs
On site assessment and portfolio submission / GGF Member: £50 + VAT
On site assessment and portfolio submission / Non Member: £100 + VAT
Individual modules: Cost on request
*Delegates are responsible for overnight accommodation if required.
Course dates and locations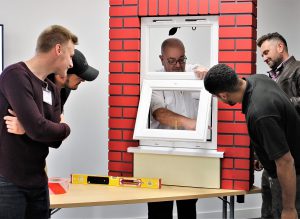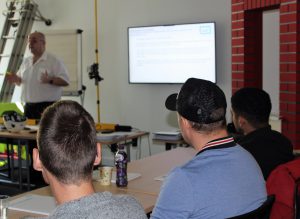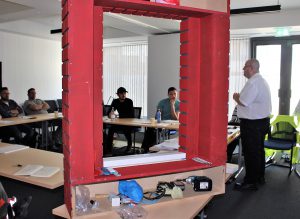 Upcoming dates
GGF Offices, Southwark, London
January 29-30, 2019
February 19-20, 2019
March 19-20, 2019
April 23-24, 2019
May 21-22, 2019
June 25-26, 2019
> Register via Eventbrite
On-site training
If you have a number of people that require installation training, we can offer an in-house solution.
For information about on-site training or to register your interest for GGF Accredited Installer Training in a region not listed above, please contact GGF Head of Membership and Training Richard Hearn.
[/full_width]