This week, the GGF gained national exposure for MyGlazing.com's popular Window with a View competition in The Sun, which has resulted in a surge of entries! On that note, the entry deadline for Window with a View 2019 is just around the corner, so if you have yet to submit an image of a great view from a window that you've either fitted or visited (or even from your own home), then you still have time to enter, but don't delay there's just under a week left.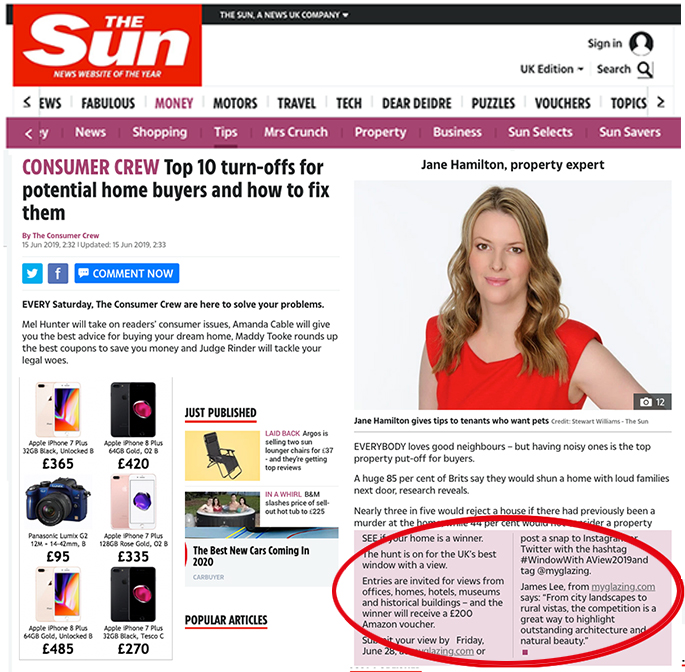 From tranquil rural vistas to bustling city landscapes, we're on a mission to find the very best Window with a View in the UK, and you have until midnight on Friday 28th June to get involved and be in with a chance of earning the title of having the UK's Best Window with a View.
To enter, simply take a photo of any Window with a View in the UK and post it on Instagram or Twitter with the hashtag #WindowWithAView and tag @myglazing, or submit your photo via our online entry form.
In July, a panel of photography, architecture, travel and tourism professionals will whittle down the entries to the best view from each region, and these images will then go head-to-head in a public vote for the national title. The judging panel will be looking for creativity, imagination and a stunning view that captures a memory and tells a story.
As with previous years, entry is completely free and we have some great prizes up for grabs this year. As well as the winning image being named the UK's Best Window with a View and receiving the award, the person that submitted the photo will win a £200 Amazon voucher.
What's more, each person that submits an entry and each person that votes will also be entered into a random prize draw for a £100 Amazon voucher.
So, what are you waiting for? You have nothing to lose and much to win! Good luck!