GGF Members and guest players from the London and South East region enjoyed a competitive yet good spirited Golf Day on the 4th of July at the Tudor Marriott Hotel & Country Club.
The sun shone as 40 attendees descended upon the 18-hole championship golf course in Maidstone, Kent for a fantastic day of golfing and networking. GGF Golf Days provide GGF Members with an outstanding opportunity to meet fellow Members, discuss industry issues, network, and of course enjoy some quality time on the greens.
John Mannell of Prentice Glass, Chairman of the GGF London Region, commented: "The GGF Golf Day has developed over the years to become a major event in the GGF calendar. The weather was wonderful and the course was in great condition. Thank you to all the players who joined us and for making it a fantastic day."
After a busy day under the sun players retired to the Chalet room for a three-course meal, some well earned refreshments and the awards presentation – details of which follow.
Greensome awards
1st prize, Preedy Glass Trophy Ian Townend and Duncan Bain, Solarshield
2nd prize Gary and Paul Berestord, Frameless Glass Curtains
3rd prize Steve Beck and Mark Rogers, AGC
Individual awards
1st prize, Pilkington Cup Peter Hemming, DG Solutions
2nd prize Thomas Ward, DG Solutions
3rd prize Steve Beck, AGC
Best Veteran Perry Hubble, Guest of Thermoseal
Nearest the Pin Peter Hemming, DG Solutions
Longest Drive Dave Weir, DG Solutions
Foursome awards
1st prize, Thermoseal Trophy Dave Weir, Peter Hemming, Thomas Ward and Vik Ramsingh, DG Solutions
2nd prize Alan Hyde, Perry Hubble, Andy Archer and Tony Ward, Thermoseal and guests
3rd prize Gary and Paul Berestord, Frameless Glass Curtains. Mark Rogers and Steve Beck, AGC
Player testimonial
"Thanks for a lovely day, I really enjoyed the course immensely," – Thomas Ward of DG Solutions, winner of 2nd prize in the individual awards and a share of first prize for Best Four.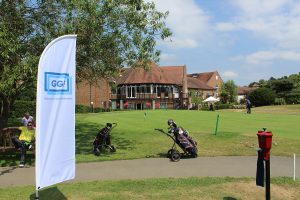 Don't miss your last chance to enjoy a GGF Golf Day in 2018!
There's still time to participate in a GGF Golf Day this year if you weren't able to make it to the Scotland, Ireland, or London and South East events.
The 28th Annual GGF North West Golf Tournament takes place on 13 September at Formby Hall Golf Resort & Spa, located on Southport Old Road, Formby, Southport L37 0AB.
GGF Members can reserve their place by contacting their GGF Regional Executive. Not a GGF Member? Find out more about GGF Membership