The FIREX International exhibition at ExCel London is just 3 weeks away and the GGF is pleased to offer all Members a VIP Ticket to Europe's only dedicated fire safety event.
Your VIP ticket includes:
Access to the VIP Lounge
Access to exclusive meeting areas
Charging stations and free Wi-Fi
A selection of food and drink options
Fast track entry to the show
1.2.1 meetings service

FIREX International will host 130 exhibitors from all over the world at ExCeL London, 18-20 June and the GGF will be exhibiting at stand number FX715 – a 30m2 space situated in a prime central position near the entrance of the show.
Visitors to the GGF stand will see live glass exhibits showing the before and after effect of fire, heat and smoke on glass. In addition, the GGF will have video demonstrations and a live speaking slot – Adrian Blaydon will present "The Importance of Fire Resistant Glazing" on Thursday 20 June at 11.50am, in the Expert and Guidance Theatre. All those attending will also receive a free printed copy of the GGF Fire Resistant Glazing Best Practice Guide (retail value of £150).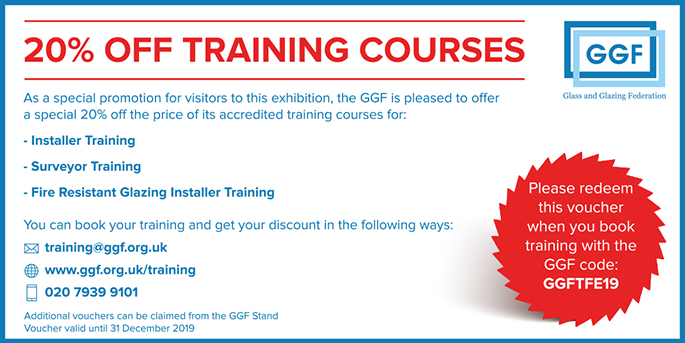 At the show the GGF is also promoting Fire Resistant Glazing Installer Training, with a 20% discount voucher given free to all those visiting the GGF Stand.
If you are planning to attend this outstanding exhibition, please make sure you get your VIP Pass by registering via this link: https://registration.n200.com/survey/31xccjoxu2vxi/register?cid=prtnr_Vs_DRV20190402%7C4&actioncode=PRT41
To book your place for the GGF seminar by Adrian Blaydon please book via this link: https://www.firex.co.uk/agenda?query=20190620